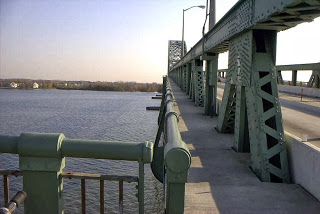 One of the two bike and pedestrian links between Philadelphia and New Jersey has been severed - at least temporarily. The Burlington County Bridge Commission has closed the pedestrian walkway "until further notice" due to damage resulting from a failed bridge opening on October 10th.
The Bridge Commission's
website
has no information about this closure. We ask the Commission to, at the least, post updates on the walkway's status online or via its
text messaging service
.
Earlier this year Bicycle Coalition of Greater Philadelphia's highlighted the shortcomings of the region's cross-river transportation system for non-motorized users in the report "
Crossover: Bridge Ahead Impassible
." The alternative to the
20 minute walk across the bridge
(bikes are required to be walked on the bridge) is a 80 - 105 minute
three or four vehicle transit ride
via SEPTA, PATCO and the RiverLINE that will cost you up to $10. An automobile trip over the bridge costs $2 from NJ to PA only.
This article was republished with permission from the Bicycle Coalition of Greater Philadelphia's Official Blog.